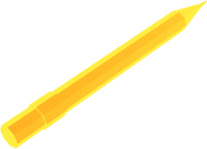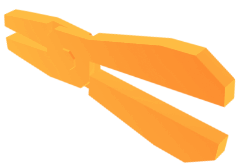 Press Kit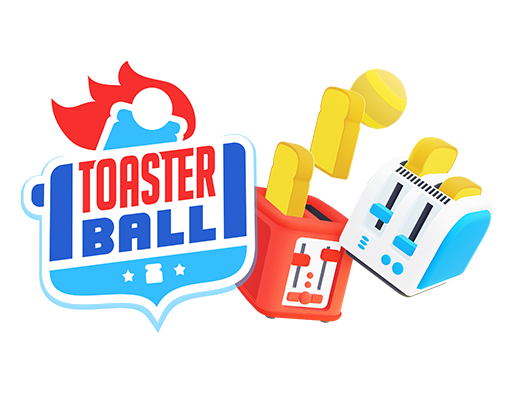 Toasterball
Factsheet
Release date
In early Access since January 15, 2020
Final version planned for the end of 2021
Platforms
Windows/MacOS, Nintendo Switch
(in development)
Multiplayer
2-4 players, local multiplayer
(soon online, with solo mode)
Description
A ball, two goals, and... toasters: Welcome to Toasterball! Play against your friends in this unconventional tournament, where toasters are athletes and the laws of physics are merely a suggestion.
Toasterball is a multiplayer arcade sports game (up to 4 player), quick to learn and easy to play. Because the characters you control are toasters, you can expect some slapstick physics and a lot of ridiculous situations on screen, but there is also a real learning curve, and enough gameplay variants to keep on surprising you for hours.
The basics of Toasterball are quite simple: press one of the buttons on your toaster for a short time, release it, and watch your toast fly through the air! The longer the press, the higher your toast will go. Each ejection also makes you jump, allowing you to hop around the field and push your opponent into tight situations. From there, any means are allowed to put the ball inside your opponent's goal!
Features
The game is currently in early access. The majority of the toasters and gameplay variants are already in the current version. We are currently working on the online mode for the game, as well as customizable matches, an AI to play against in solo mode, and a Nintendo Switch port of game.
Choose your athlete
Play as one of the 18 toasters in the game (plus some hidden ones to unlock), each with a different visual and background story. There are two major teams in Toasterball: The Burners (in red) and the Defrosters (in blue).
Never the same match twice
After each goal, a new gameplay variant is randomly chosen. A variant can be small, like a simple change of the toasters' size, or can completely change the game with different goals, various ball physics, changes in the environment or random event like gusts of wind or explosions. With these variants, no two matches are alike. The game already have more than 20 different variants, with lava pits, moving platforms, portals, and lots of deadly traps.
Online and local multiplayer
You can play on the same keyboard, on the same couch with 4 controllers, or remotely with the online mode (still in development).
Custom matches
Play the way you want with customizable matches, where you can choose how many points you need to win, and which gameplay variants you'll get! (still in development)
History
→ A first prototype of the game was first released on itch.io in june of 2018.
Link to first prototype: https://studiocrafteurs.itch.io/toasterball-demo
→ A Kickstarter campaign has been launched from October 16 to November 16, 2018, in the hopes of funding the full version of the game, with 4 players modes, and lots of gameplay variants. The campaign was a success, thanks to our kind community on Discord and Twitter.
Link to Kickstarter page: http://kck.st/2pUYylT
→ The game is now in early access on Steam since 2020, with an official release planned for the end of 2021.Link to Steam page: https://store.steampowered.com/app/1142810/Toasterball/
About us
To learn more about us, see our studio's page in this press kit.